THE PROBLEM
By failing to act with moral courage, Leeds University has become contaminated by the misbehavior at Manchester University.
(i) An email was sent to the Dean for the Faculty of Mathematics and Physical Sciences warning him of the threat.
(ii) Two follow-up emails were sent to the Pro-Vice Chancellor for Research and Innovation.
Unfortunately these warning were ignored.

Email to the Dean for the Faculty of Mathematics and Physical Sciences


24 November 2014
Dear Doctor Scott,
I have given serious thought as to whether or not to write to you about a very uncomfortable matter that as Dean, you will find distressing.
I have concluded it is better to do so before an appointment is taken up rather than let the evidence lie waiting to be discovered on my website.
I am determined that corruption within British science should be exposed and have no intention of removing my evidence from the public domain. On the other hand, I have no desire to see Leeds University tainted by corruption it has played no part in.
This corruption may have cost lives
The corruption relates to research failings that led to the EU withdrawing a soft car bumper directive intended to reduce the trauma of severe lower leg injuries in car impacts with pedestrians.
The Victoria University of Manchester was given EPSRC funding to work with Dow Chemicals and myself the inventor, to develop a smart car bumper. This bumper offered variable stiffness, being soft for pedestrian impacts but stiff for other types of impact that would otherwise cause expensive car bodywork damage. The design attracted media interest and was recorded in Hansard as an example of British science making a positive contribution to Europe.
Unfortunately the principle investigator for the University research was jealous of my pending success. He blocked progress and failed to deliver any valid research data to Dow.
Eventually four Manchester researchers "saved the reputation" of Manchester University by publishing false research that "proved" the smart bumper design was ineffective.
After several years of lobbying by me and my MP that went as far as Lord Sainsbury, the then Minister for Science, a formal enquiry was held.
Fortunately for the reputation of the post-amalgamation Manchester University, the enquiry panel chaired by Professor Gleeson cleared the University researchers of all wrong doing.
It did this by creating false evidence that "validated" the bad car bumper research. Extracts from the Gleeson report, along with evidence of why it was corrupt are published on my website.
For example, well supervised undergraduates at Cardiff University did the basic bumper research correctly and presented their results at an international automobile research conference in Germany [1]. A copy of their conference paper was submitted to Gleeson's panel, but is not mentioned in their report.
Evidence of good research into my invention at Nanjing University in China was submitted to the enquiry, but is also omitted from their report. [2].
Most disturbing of all was the Gleeson reports citing of a fictional prior investigation that had supposedly examined the evidence and cleared the Manchester researchers of fraud. This very conveniently made any further probing by Gleeson's panel unnecessary.
Bizarrely, the prior investigation was supposedly carried out by the researchers whose behaviour she was charged with investigating.
The fictional prior investigation was given false credibility by naming a Dow employee as one of the investigators. Relevant extracts from the report, plus a copy of the Dow employee's letter of denial are published on my web site.
I also provide email addresses for Professor Gleeson and The Research Integrity Office at Manchester University so that web page readers can test the honesty of my claims.
In anticipation of Professor Gleeson's Panel delivering an honest verdict, Cardiff University put in an EPSRC funding bid to do the fraudulent Manchester research correctly.
But, following the delivery of the Gleeson report, the Cardiff funding bid was rejected. Thus, a second chance to save pedestrian lives was lost. [The original pedestrian friendly bumper directive was due to come into force in 2005. After it was withdrawn the EU agreed to reintroduce it in 2012, if a solution to the soft bumper problem became available. Cardiff University was aiming to meet this second date.]
Subsequently, I tried unsuccessfully to shame the science establishment into acting ethically by publishing a testimony exposing the corruption. But it appears that the combination of primary and secondary fraud was too painful for the establishment to face up to. I hope that the senior staff at Leeds University have greater moral courage than their peers.
A copy of my testimony, as sent to Professor Dame Nancy Rothwell the Vice-Chancellor of Manchester University, Professor Gleeson, all listed members of The Institute for Science, Ethics and Innovation at Manchester University, The Royal Society and others is attached.
The trail of my published evidence starts online at www.cheshire-innovation.com/sali/pedsali.htm
You will need to spend some time reading through the evidence of primary research fraud on this web page before you encounter any reference to the secondary fraud.
I apologise for having to present you with such a distasteful problem and send this email with a heavy heart.
Yours sincerely,
Bill Courtney
[1] Huw Davies et. al., Cardiff University School of Engineering, Pedestrian Protection using a Shock Absorbing Liquid (SALi) based Bumper System, ESV Conference, Stuttgart, June 2009, Paper Number 09-002.
[2] H. d. Teng, Q. Chen, Study on vibration isolation properties of solid and liquid mixture, Journal of Sound and Vibration, (2009) doi.10.1016/j.jsv.2009.04.036
Cheshire Innovation / Latent Power Turbines Ltd
17 Vale Road, Timperley, Altrincham, Cheshire, WA15 7TQ, UK
Tel/Fax +44 (0) 161 980 5191,
Web site www.cheshire-innovation.com
******************************************************************************
The above email was acknowledged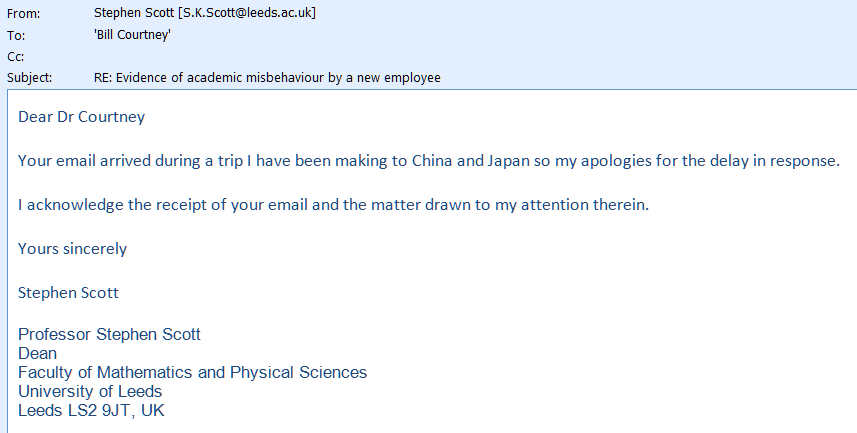 But Professor Scott failed to address the problem. So Bill checked out the Leeds University policy on research ethics at http://ris.leeds.ac.uk/homepage/2/good_practice_and_ethics
This is what it states: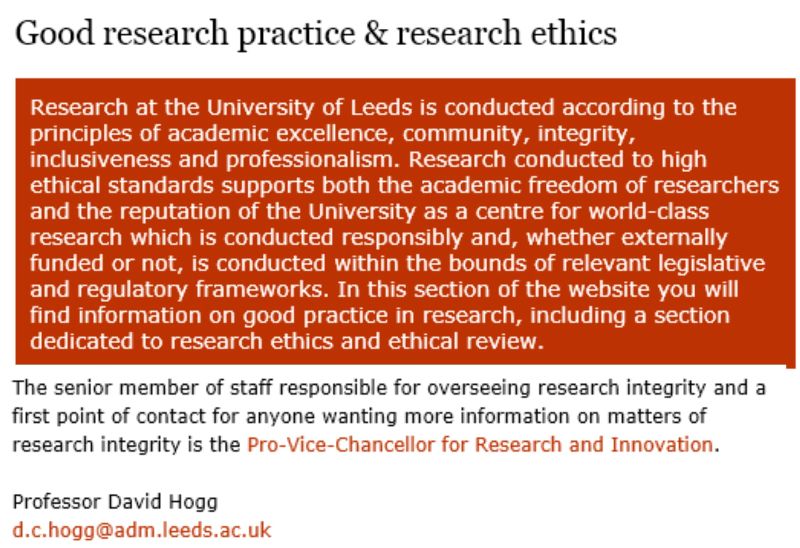 RESPONSIVE ACTION TAKEN
Bill sent two emails to Professor Hogg (9th and 26th April 2015), writing
"It would appear that in spite of the serious nature of the matter, my warning has been ignored.
This may be convenient in the short term, but ultimately could prove to be a needless disaster for Leeds University."
But again, no action was taken.
Bill Courtney comments
Manchester and Leeds appear to be twinned in their cynical lip service boasts of research integrity.
If we are going to bring prosperity back to the north, this is not the type of northern powerhouse that we need.