If you are a private inventor, this page should disturb you.
We provide evidence of how large organisations can abuse the rights of inventors who cannot afford to pay expensive layers to protect their intellectual property.
In April 2008 an undergraduate engineering student at Manchester University found himself in a moral dilemma:
Should he speak up honestly for science, or conform with the prevailing culture and do bad SALi research to keep his project supervisor happy?
The student
On this page he will be referred to as "John Smith". The Formal Enquiry Panel were given his real name.
The evidence
The Formal Enquiry Panel were provided with a dossier of five documents. This dossier is labeled "E Folder" on the CD ROM submitted to the enquiry.
Document E5 below is of particular interest because it demonstrates that Manchester University created false patent evidence to imply that Courtney did not own the SALi intellectual property anyway.
A British University should not be creating fraudulent evidence to cheat a British inventor of the fruits of his labours. Perhaps even more disturbing is the fact that senior management at the University condoned several students being drawn into nonsensical projects that violated the laws of physics. (We provide the evidence below.)
Here is the first document, a cover note labeled E1.
Document E1 begins
CHESHIRE INNOVATIONâ
17 Vale Road, Timperley, Altrincham, Cheshire, WA15 7TQ
Tel/Fax 0161 980 5191, Mobile: 07913561887
Web site www.cheshire-innovation.com
23 July 2010
COVER NOTE
Evidence of current abuse of my intellectual property rights
On the 21st June 2008, I discovered that research into SALi Technology was still taking place at The University of Manchester, in breach of my intellectual property rights.
This discovery was made by chance, when one of Dr Oyadiji's undergraduate project students, John Smith, "let the cat out of the bag" by phoning me for advice.
He had been set a project on SALi Technology that looked rather suspect. His suspicions were confirmed when his results suggested that the most effective SALi formula should be twice as heavy as for the same materials described on the Cheshire Innovation web site.
It soon became clear to me that Smith's project was impossible. He had been given the task of investigating one of Dr Oyadiji's long discredited "pet" theories about SALi Technology. This theory, which violates the Law of Conservation of Energy, was debunked in 2001, using electron microscope evidence.
"Smith's" moral dilemma:
Learning the truth placed Smith in a difficult position. Should he act ethically and declare that his project was suspect, or please his supervisor, in order to gain a good project mark?
I warned Smith that in my experience Dr Oyadiji is seen to do no wrong. Nobody in the University would step out of line and support him, if he spoke the truth.

I had paid a high price for trying to act ethically, the same could happen to him. I suggested a middle path: presenting his results, as approved by his supervisor, but adding a couple of hints to record his doubts. As far as I can tell, he did both. [Document E3.]
I sent Smith copies of Documents C1 and D1 to act as his "insurance policy". Document D1 provided Smith with evidence that his supervisor has a history of designing experiments which violate the laws of physics. Document C1 provided him with evidence that the University was willing to tolerate Dr Oyadiji's incompetent and unprofessional behaviour. I advised Smith to show these documents to the Students' Union if he found himself in trouble for contacting me or acting on my advice.
My moral dilemma
I have wasted twelve years, attempting to develop my invention in collaboration with the University. I have lost my retirement savings, suffered ill health and my good name at the University has been tarnished.
In order to prevent similar damage to a young Manchester student's career, I have violated my own moral principles, by advising him to be economical with the truth and make false statements that damage SALi Technology.
It can be judged from the tone of my letter to the Registrar [Document E2], this was not my preferred way of helping the student to complete his project.
Based on past experience, my broader concern is that these invalid project results may be selectively quoted to misguide future developments in SALi Technology.
Bill Courtney
Attached in Document set E: (On the CD-ROM.)
E2: My complaint letter to the Registrar.
E3: Annotated page from "Smith's" report.
[The annotations explain how "Smith" had to omit an inconvenient research result and come to a false conclusion in order to keep his supervisor happy.]
E4: My comments on four SALi project reports released under the Freedom of Information Act. These reports had previously been kept from me.
E5: Annotated copy of unsigned letter from the University, pretending that SALi Technology was not the focus of the student projects.


Document E1 ends
A short extract from Document E4
In this extract Courtney contrasts the early good work at UMIST with the later flawed work at Manchester University.
It refers to a violation of the Law of Conservation of Energy. This is entirely different to the violation presented in Document D1.
Extract from Document E4 begins

3 Comparison with earlier research carried out at UMIST
There is a superficial similarity between the current invalid projects and earlier valid project work carried out at UMIST.
Both project designs employ a piston and cylinder arrangement and both relate to changes in packing fractions.
(In these experiments packing fraction means the volume ratio of expanded polystyrene beads to total volume of beads plus matrix liquid.)
There is a crucial difference in how changes in packing fraction were achieved.

The UMIST researchers created dynamic changes in packing fraction by compressing the SALi mixture.
The current work creates static differences in packing fraction without compression by removing some of the beads from the liquid.
The good researchers at UMIST recognised that work had to be done in order to compress the expanded polystyrene beads and change the visco-elastic properties of the mixture.
The Manchester University students were expected to believe that a similar change in visco-elastic properties could be brought about, without compressing the beads. More specifically, in order to humour their supervisor, the students were obliged to believe that violent impact conditions could be mimicked simply by passing a low energy density sound wave through the SALi sample.
"John Smith" was an astute student who recognised that his project supervisor had got it wrong.
The following diagrams make this difference between the good and bad research designs clear.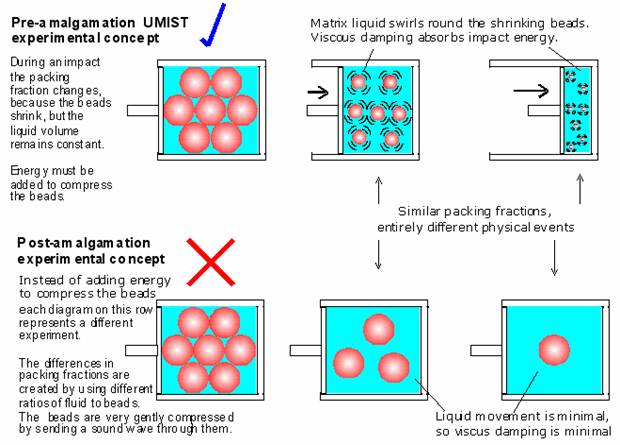 Figure8. The current projects omit the viscous damping caused by the swirling effect; this reduces the impact energy absorbing efficiency of the SALi.

This series of student projects move the development of SALi Technology backwards by failing to build on the valid research done at UMIST. The UMIST research was done by students on Professor Reid's IMPEX course and was supervised by Dr John Harrigan.
Reid and Harrigan moved to Aberdeen University shortly after amalgamation."
Extract from Document E4 ends
Introduction to Document E5.
Bill Courtney is keen to promote research into SALi Technology, but because he owns the intellectual property rights he insists on research institutions signing a licensing agreement first. By the time "John Smith" contacted him, the Manchester University licensing agreement had long expired, with four projects being completed beyond the agreement time.
Courtney had previously presented the University with evidence that Oyadiji was passing off SALi Technology as his own invention, so he was keen to crack down on the abuse of his rights by the University.
Document E2 on the CD-ROM is a copy of his letter of complaint to the Registrar.
In response he received the following implausible excuse that Dr Oyadiji's students were in fact investigating somebody else's invention, not SALi Technology. The letter was unsigned, so at the time of the Formal Enquiry, he had no idea who had written it. It later emerged that the anonymous author was a Vice-President of Manchester University.
Document E5- The fabricated evidence for overriding Courtney's intellectual property rights

E5 is Courtney's annotated version of the "implausible excuse letter", as he submitted it to the Formal Enquiry Panel.
The annotations are in red and purple font. You are recommended to read the original letter beginning, "Dear Mr Courtney" before studying the comments.
Document E5 begins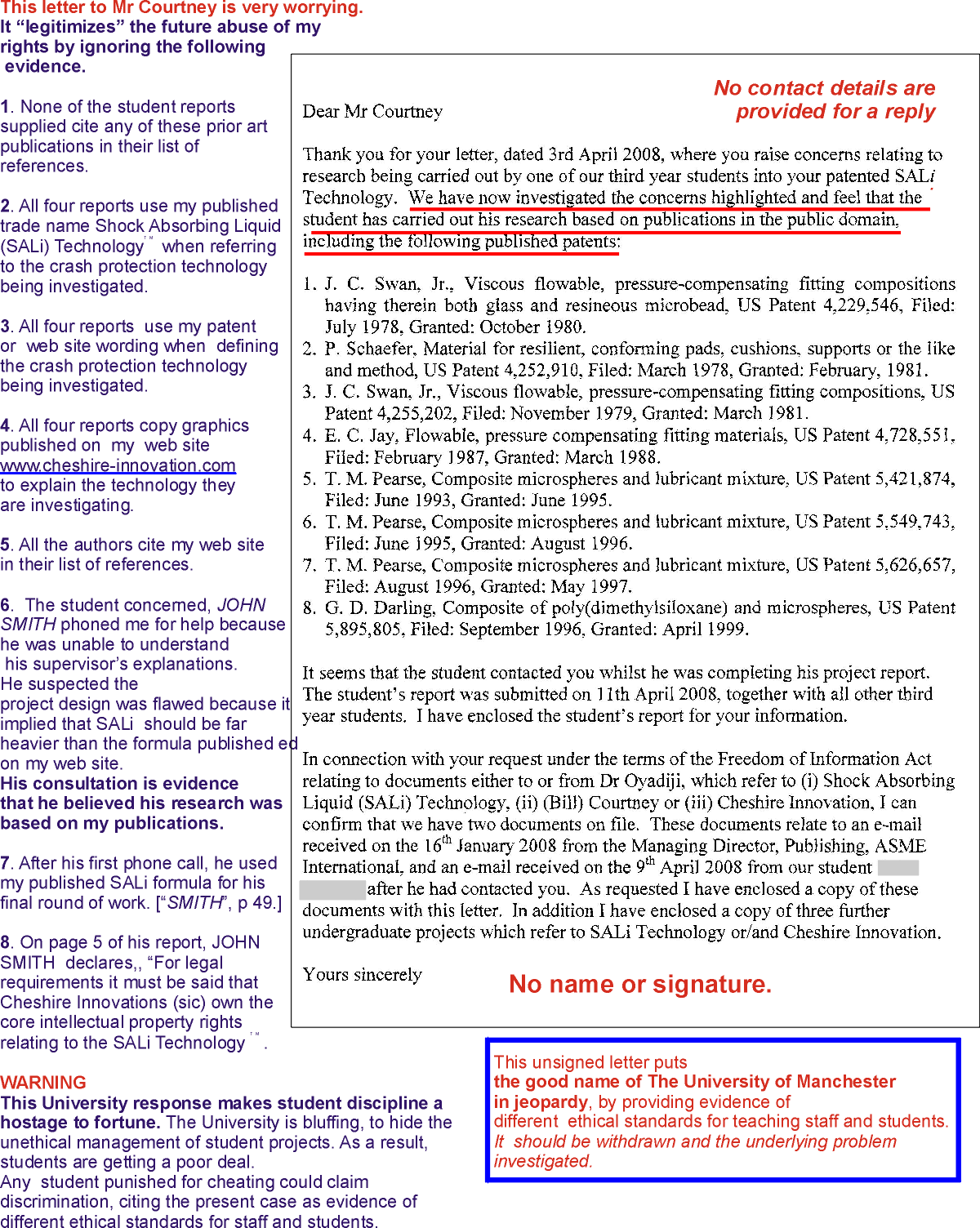 Document E5 ends
The truth slips out
It was subsequently discovered that the anonymous author of this letter was Professor Colin Bailey, a Vice-President of the University. We explain how you can verify this below.
Professor Bailey's letter is the final piece of evidence that Manchester University has willfully denied Courtney of the fruits of his labours since 1986, in order to protect its own public image.
This is the current state of development of SALi Technology as a result of the Manchester University shenanigans.
SALI Technology cannot be advanced without competent research emerging from a well equipped research institute. Following an introduction by Manchester Business Link, Courtney started on this process at Manchester University in 1996. Unfortunately unforeseen supervisory problems have blocked progress.

The Formal Enquiry Panel ignored detailed evidence that bad SALI research was being done at Manchester. Instead, the Panel promoted the dissemination of bad research by recommending,
"That the University should seek to ensure that the papers blocked by Mr Courtney are duly submitted for publication and any unpublished results are allowed to be published without such blockages in the future."1

A Vice-President at Manchester University2 has created a false legitimacy for the continuing bad research by claiming that it's not SALi, but another invention that is being investigated at Manchester. [Document E5 above.]

There is clear evidence of financial fraud relating to the British taxpayer funded SALi research at Manchester University, but a corrupt Formal Enquiry process has hidden it.3
Bill Courtney invented SALi Technology in 1986. He has lost his patents and £140,000 retirement savings while trying to develop SALi in a royalty sharing collaboration with Manchester University.

In response the University has tarnished Bill Courtney's good professional name in order to hide its own failings.
[If you have any doubts, please check these claims. Ask the University for SALi related communications with the EPSRC, The Small Business Service, The Department for Transport and Graham Brady MP.]
The destruction of his good name has brought the UK development of SALi Technology to a halt.

Meanwhile, better things are happening in China. Researchers have obtained a copy of Courtney's unpublished Manchester University thesis on SALi Technology, copied his designs and done excellent research. The Chinese researchers concluded that SALi based vibration absorbers offer "outstanding performance and a good prospect in engineering practice". 4 Unfortunately the Chinese have refused to work with Courtney or a UK University.
Footnotes

Gleeson, Duck et. al., Formal Enquiry Report, University of Manchester, January 2010.
In an email to Bill Courtney dated 11/06/2009, Mrs April Lockyer, University of Manchester Research Integrity Office confirmed that the anonymous author of Document E5 was Professor Colin Bailey, a University Vice-President and Dean for the Faculty of Engineering and Physical Sciences. [To verify this exposure use the Freedom of Information Act to obtain a copy of the Lockyer email.]
A Vice-President of Manchester University should not be jeopardizing the international reputation of our higher education system by fabricating evidence to hide bad teaching that obliges students to commit research fraud in order to obtain a good degree.
[Professor Bailey has recently moved on to become President and Principal at Queen Mary University.]
3 "Successful" financial fraud in the case of PedSALi, legal intimidation with the intent to commit fraud for CrashSALi.
4. d. Teng, Q. Chen, Study on vibration isolation properties of solid and liquid mixture, Journal of Sound and Vibration, (2009)
Note for web page readers: If you suspect that anything you read on this page is implausible, please check the evidence. These documents should be available from Manchester University under the terms of The Freedom of Information Act.